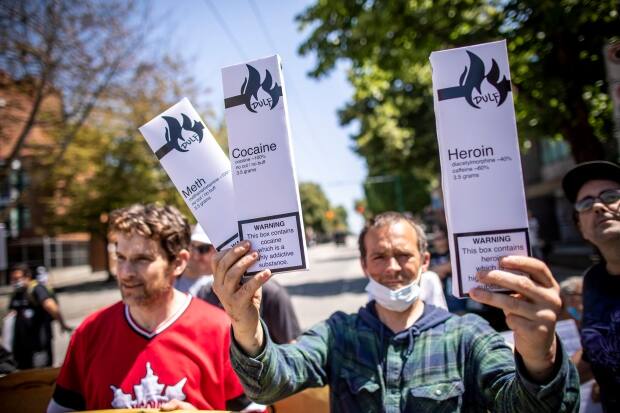 Starting Tuesday, it is no longer a criminal offence to possess small amounts of certain illicit drugs in B.C., for people age 18 or above.
It's part of a three-year pilot by the federal government, which granted B.C. an exemption from the Controlled Drugs and Substances Act (CDSA) on May 31, 2022. 
While advocates for drug users say decriminalization alone won't stop thousands of people dying from a tainted drug supply, others say it is a step in the right direction when it comes to how drug users are treated.
Here's what you need to know about B.C.'s drug decriminalization pilot.
Which drugs are included in the pilot?
Under the exemption, up to 2.5 grams of the following four drug types can be legally possessed:
Cocaine (crack and powder).
Methamphetamine.
MDMA.
Opioids (including heroin, fentanyl and morphine).
Fentanyl and its analogues were detected in nearly 86 per cent of drug toxicity deaths from 2019 until 2022, according to the latest report from the B.C. Coroners Service.
Illicit drugs involved in deaths in B.C. — 2019-22
How long will the pilot last?
The exemption pilot is set to last for three years until Jan. 31, 2026 unless it is revoked or replaced before then.
A Health Canada spokesperson said the federal government will monitor the pilot throughout its duration to gauge its effectiveness.
On Monday, Carolyn Bennett, the federal minister of mental health and addictions, said the government plans to collect data on health, criminal justice interactions, public safety and other indicators throughout the next three years. That information will eventually be available to the public through an online dashboard updated quarterly, she said.
Does this mean those drugs can be sold legally?
No. Anyone caught selling drugs or trafficking them will still face criminal penalties in B.C.
Trafficking illegal drugs, or possessing them for the sake of trafficking (not for personal use), could land a person in prison.
What is still criminal when it comes to drug use?
Possessing illegal drugs at schools, child care facilities and airports remains illegal. 
Multiple municipalities, including Vancouver, have bylaws that prohibit drug use at city facilities and private areas like malls or cafes.
"However, adults removed from private establishments would not be subject to federal criminal charges for their personal possession of up to 2.5 grams of the illegal drugs listed in the exemption," the B.C. ministry of mental health and addictions said.
How will the police enforce the threshold?
According to officials, police have been provided with infographics and photos illustrating what 2.5 grams of the decriminalized drugs might look like.
To determine which drugs are in someone's possession, officers are being instructed to simply ask the drug user what they believe the substance to be.
The province has developed a training process for police that many departments, including the RCMP and Vancouver Police Department, have made mandatory for all officers.
The government says police will not seize any drugs they find on an adult.
"Instead, they will be offered information about health and social supports, including local treatment and recovery services, if requested," the government said in a statement.
Why 2.5 grams?
When the province first applied for an exemption under the Controlled Drugs and Substances Act in November 2021, it sought a threshold of 4.5 grams. 
The federal government lowered the threshold to 2.5 grams when they granted the exemption, citing feedback from law enforcement officials across B.C.
Addictions Minister Carolyn Bennett said the threshold was a "starting point" that can be adjusted as needed.
However, drug users have said both thresholds were far too low given how most people consume substances.
How did we get here?
When B.C. first applied for the exemption in 2021, it was five years after a public health emergency was declared due to the spike in fatal overdoses resulting from a poisoned drug supply. 
More than 10,000 B.C. residents have died since the emergency was declared in 2016.
Number of fatal drug overdoses per year in B.C.
Politicians and advocates have argued that decriminalizing drug use would remove the stigma associated with it, and treat the crisis as a health issue rather than a criminal one.
However, others — including B.C. Chief Coroner Lisa Lapointe — have said that decriminalization won't do much to stop people dying, and that only an accessible safe supply of drugs would do so.