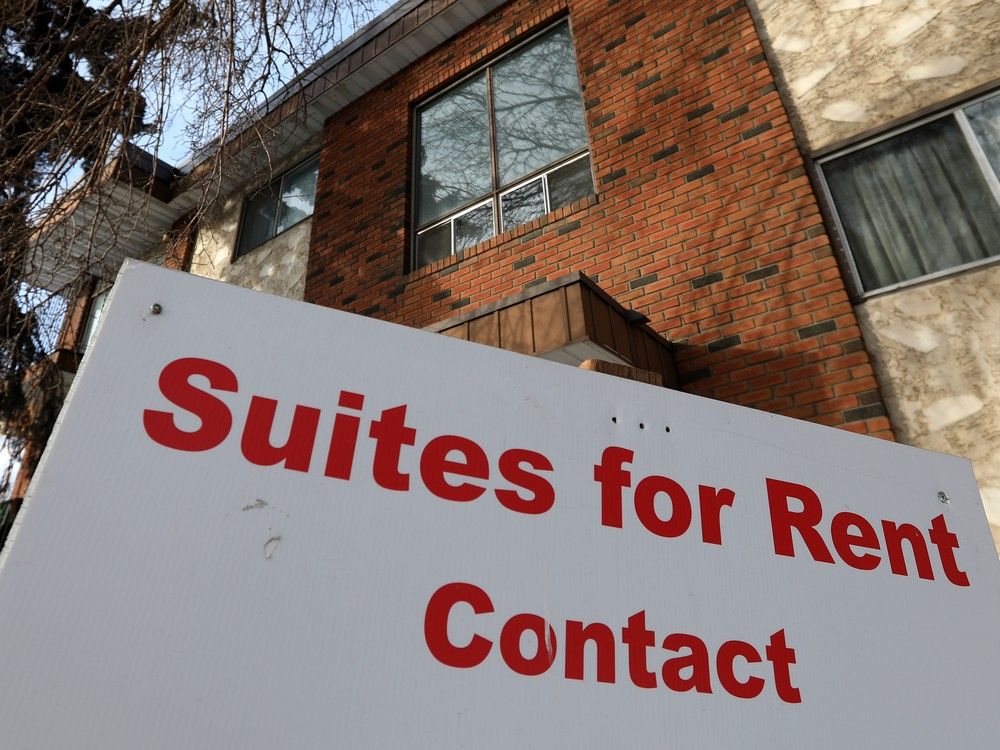 The cost of renting a home in Edmonton is expected to creep up as the city hits its lowest vacancy rate in more than a decade.
Edmonton is building new rental properties at a faster rate than any year on record since at least the early 1990s. But more people are looking for somewhere to rent before new units are available, tightening the rental market, a new CMHC report shows. As of last fall, the vacancy rate dropped to 4.3 per cent from 7.3 per cent, with the average two-bedroom unit in a purpose-built rental home climbing to $1,304, a 1.6 per cent increase. The average rent for a two-bedroom condo was $1,426.
While more than 3,000 new units opened last year, another 5,100 homes were rented out than in 2021, narrowing the gap between occupied and vacant units. Better labour market conditions, the most people moving to Alberta from other parts of Canada in a decade, and more international migrants and students arriving locally is driving up demand for homes to rent, according to the report.
Taylor Pardy, CMHC's senior specialist for market analysis, expects rents will rise faster as people compete for fewer units.
"Average rents start to grow a lot quicker because you have demand exceeding supply. As a result you have more and more people competing for less and less units, so the rent gets bid up essentially over time," he said.
Pardy expects developers will invest more in building rental homes as rental prices increase, which, once they open, should cool off how quickly rent rises.
Incentives to attract renters, such as one or two months of free rent or lower cable or internet costs, are also becoming less common.
Rental listing website Zumper's January Canadian Rent Report also found Edmonton had the fasting growing rental prices in Canada within the last month — up five per cent to $1,050 for a one-bedroom unit. Edmonton's overall rental costs, however, still rank low compared to other Canadian cities.
Affordable rentals shrink despite growing need
Rent remains lower in Edmonton than many other Canadian cities, but the CMHC expects inflation is putting pressure on the demand for low-cost rental homes.
Vacancy rates for homes renting between $700 and $849 a month were one of the housing types most squeezed last year. Should these drop further, competition for renting these homes could be high.
But Chrystal Kjenner, affordable housing director for the City of Edmonton, said higher vacancies may keep prices competitive, but it's not the entire story when it comes to affordability.
"Units vacant will see landlords invest in them to make them nicer, to make them more attractive, which comes with a rent increase … (and vacancies) can turn on a dime," she said in an interview. "All it takes is increases in interest rates to make it harder to afford homeownership, which means more people are renting for longer."
Edmonton will have a significant shortage of affordable and adequate housing within a few years and the private market will not be able to solve this problem, according to research by the city released last fall.
Kjenner said the drop in vacancy rate shows why it's important to have a supply of purpose-built rentals people can afford.
"Supply is certainly one part of the solution, but it's ensuring that we have the right type of supply also," she said.
"While we're always encouraged to see new purpose-built rentals, because that helps renters overall, it's really important from the City of Edmonton's perspective to increase the supply of housing that's affordable for people earning low and very low incomes, and so that's why the city has our affordable housing investment plan … because we're trying to catch up on a big gap in affordable housing."
Edmonton's housing needs assessment found there will be nearly 59,000 households in unaffordable or substandard homes by 2026, mostly renters, if the supply of homes they need does not increase.